Lavish Lavash Pizza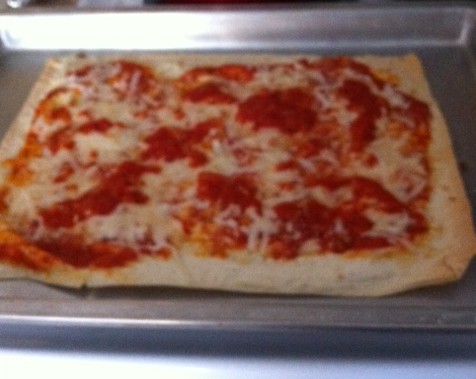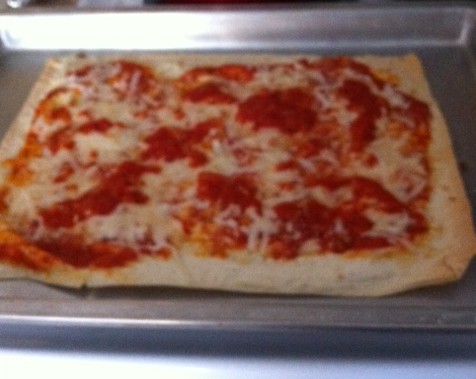 Hello there sportsfans!
Today is Super Bowl Sunday! An event that has something for everyone. The football fans get a game. The non-football fans get some innovative (we hope) ads, a touted half-time show, and lots of "bad" food! What could be better? 🙂
My little fun themed suggestion for this event is regarding desserts. It should be the Pastr-iots (thanks Eileen!) vs. the Giants NY Cheesecake! Not the most compelling but it's not the Oscars! And watch for that announcement tomorrow.
So, back to Super Bowls 2012. Yes, lots of bowls full of the sorts of food you don't normally devour. I have a great option for those who want to watch what they eat but feel indulgent – Lavish Lavash Pizza! Here's how:
Ingredients – Lavash Flatbread, 28 oz. can of diced plum tomatoes, 1 tbsp. extra virgin olive oil, 1/2 onion diced, 2 oz. reduced fat mozzarella cheese, 2 tbsp. grated pecorino romano, dried basil, salt & pepper.
Two-Steps:
1) Sauce: add onion and oil to a saucepan and cook on medium heat. When onions soften, add the diced plum tomatoes, dried basil, salt, and pepper to taste. Let it simmer for about 20 minutes.
2) Preheat oven to 350°. On a baking pan, put a piece of Lavash bread. Ladle your sauce over the top. Add the mozzarella & grated cheese. Put it in the oven for about 10 minutes until the cheese is all melty and gooey.
That's it! It serves one "starving" person or two hungry peeps. You can also cut into bite-sized pieces and have snacks for all for the big game! Add your favorite toppings to shake it up!
I admit, I'm going Giants but good luck to both teams. It's going to be a great game!